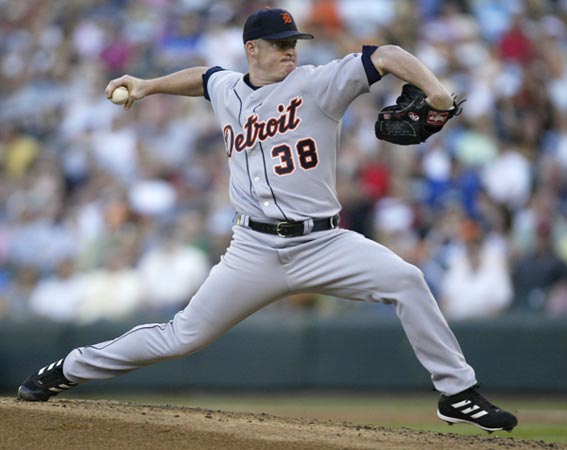 For my MLB season preview I have elected to put myself against my Xbox 360. The game of choice is MLB 2k7, which features some of the most realistic baseball graphics yet. My pride is likely to take another hit if and when I lose to a video game. I'll be checking in with these picks as the season progresses and finishes up. Just to see how far off I was. Shall we get on with the embarrassment?

*- Wildcard

AL EAST

Machine
Boston Red Sox 94-68
*New York Yankees 90-72
Toronto Blue Jays 82-80
Baltimore Orioles 79-83
Tampa Bay Devil Rays 61-101

Idiot
New York Yankees 92-70
Boston Red Sox 84-78
Toronto Blue Jays 79-83
Baltimore Orioles 67-95
Tampa Bay Devil Rays 60-102

Thoughts: The Machine goes out on a bit of a limb here taking the Red Sox to win the division outright. I on the other hand in all my spineless glory will take the Yankees. I think the pitching will be good enough and the offense is still stacked from top to bottom. If I had to put Clemens somewhere I'd be in New York. I expect the Blue Jays to finish close to 2nd but miss out on a top 2 spot once again. I wouldn't be shocked to see the Devil Rays finish 4th and drop the O's into the cellar.

AL CENTRAL

Machine
Detroit Tigers 94-68
Minnesota Twins 84-78
Chicago White Sox 82-80
Cleveland Indians 75-87
Kansas City Royals 72-90

Idiot
Detroit Tigers 99-63
*Cleveland Indians 94-68
Minnesota Twins 88-74
Chicago White Sox 81-81
Kansas City Royals 66-96

Thoughts: A little bit of bias here as I live In Detroit and am an avowed Tigers fan. With that said I just don't think Cleveland has the pitching to win the division. While its possible the Tigers pitching staff has a hangover ala the White Sox last season. I don't think it'll happen and I like the addition of Sheffield and resigning of Casey a lot. I know Sheff's old but as power bat is all the Tigers needed. I think the Indians will slug their way into the playoffs but I still do not like the bullpen a whole lot. I think the Twins will miss Liriano and Radke a great deal as Garza and Johan will not be enough on the hill. The Sox I think will still struggle a little bit finishing forth. But considering the strength of the division and how often they'll play their divisional foes this isn't too bad. I almost penciled in KC as the last place team in the AL but I think they'll be just a little better than Tampa.


AL WEST

Machine
Seattle Mariners 89-73
Oakland Athletics 81-81
Texas Rangers 80-82
Los Angeles Angels of Anaheim 74-88

Idiot
Los Angeles Angels of Anaheim 88-74
Oakland Athletics 86-76
Texas Rangers 80-82
Seattle Mariners 77-85

Thoughts: While I don't have them quite reaching 90 wins I think the Angels will be a lot like last years Tigers squad. The top of the rotation should be good with Colon, Lackey, Santana and Weaver. The Machine goes a different direction with the Mariners finishing at the top while the Angels bring up the rear. The A's could steal this division if Crosby and Harden can stay healthy.

NL EAST

Machine
New York Mets 94-68
Washington Nationals 88-74
Atlanta Braves 87-75
Florida Marlins 72-90
Philadelphia Phillies 68-94

Idiot
New York Mets 91-71
*Philadelphia Phillies 89-73
Florida Marlins 77-85
Atlanta Braves 76-84
Washington Nationals 62-100

Thoughts: I think the Mets will regress slightly this season as their pitching woes continue. They should have went harder after Zito in the off-season to solidify the rotation. The offense will carry them once again as they narrowly escape an improving Phillies team to win the division. The Phillies I think are a year away from winning the division but they should be very good this year. All the walks Ryan Howard's going to get should have the Bonds effect on the offense. The machine surprises again here picking the Nationals to finish in second place just ahead of the Braves. I'm making a bit of a leap with the Marlins but I think if the pitching is anywhere near as good as it was during the second half last season the Marlins will compete to the end again.

NL CENTRAL

Machine
Houston Astros 87-75
Chicago Cubs 80-82
Milwaukee Brewers 80-82
Cincinnati Reds 77-85
St. Louis Cardinals 77-85
Pittsburgh Pirates 70-92

Idiot
Houston Astros 85-77
Milwaukee Brewers 83-79
St. Louis Cardinals 81-81
Chicago Cubs 80-82
Cincinnati Reds 70-92
Pittsburgh Pirates 67-95

Thoughts: I think the Astros offense will finally be better with the addition of Carlos Lee. They'll be the last team standing in the worst division in baseball when all is said and done. I think the Brewers make a solid run but just miss the playoffs. The Cardinals will slide as Wainwright and Carpenter are not enough on the mound. The Machine seems to agree this is a bad division as we pick the majority of it the same.

NL WEST

Machine
San Diego Padres 93-69
*San Francisco Giants 89-73
Los Angeles Dodgers 78-84
Arizona Diamondbacks 77-85
Colorado Rockies 76-86

Idiot
Los Angeles Dodgers 89-73
San Diego Padres 84-78
Arizona Diamondbacks 81-81
San Francisco Giants 80-82
Colorado Rockies 76-86

Thoughts: The Machine seems to think this is a big year for the NL West as it send two teams into the playoffs. I like the Dodgers a lot this year as I think they'll improve over last season's first round playoff exit. I expect the pitching to be at least as good as it was last year and for Nomar and Co. to continue to get on base regularly. Padres could also win the division as they have solid top of the rotation starters and an up-and-coming young bat in Adrian Gonzalez.

Playoffs

American League
Machine
Round 1
Yankees over Tigers in 5
Mariners sweep Red Sox
Round 2
Yankees over Mariners in 4

Idiot
Round 1
Tigers over Angels in 5
Yankees over Indians in 4
Round 2
Tigers over Yankees in 7

National League
Machine
Round 1
Mets over Padres in 5
Padres sweep Astros
Round 2
Padres over Mets in 7

Idiot
Round 1
Mets over Astros in 4
Dodgers over Phillies in 5
Round 2
Dodgers over Mets in 6

World Series
Machine
Yankees over Padres in 5

Idiot
Tigers over Dodgers in 6

Thoughts: The machine in no real shock takes the Yankees over a surprising Padres team. I like to very similar teams to meet in the World Series this year in LA and Detroit. I also like the Angels a lot because of their pitching and if they can get consistent production from the young bats they could be representing the AL in the series. In a bit of a homer pick I took the Tigers in six.

Awards

American League
Machine
MVP - Manny Ramirez
Cy Young - Mike Mussina
Reliever Of The Year - B.J. Ryan
Rookie Of The Year - Kei Igawa (NYY)

Idiot
MVP - Carlos Guillen
Cy Young - John Lackey
Reliever Of The Year - Fernando Rodney
Rookie Of The Year - DICE-K!! (BOS)

National League
Machine
MVP - Jose Reyes
Cy Young - Noah Lowry
Reliever Of The Year - Brad Lidge
Rookie Of The Year - Matt Albers (HOU)

Idiot
MVP - Albert Pujols
Cy Young - Roy Oswalt
Reliever Of The Year - Takashi Saito
Rookie Of The Year - Chris Young (ARZ)

Thoughts: Rather than go with what seems to be the norm and take Alex Gordon for AL rookie I took a chance on Dice-K. I also like Delmon Young a lot but I'm not sure he qualifies. Going out a a small limb with my AL picks as I took Carlos Guillen for MVP and John Lackey for Cy Young. I would rather take a chance that take Johan like everyone is. I like Jeremy Bonderman and Roy Halladay a lot this year as well. In the NL the Machine has some inspired picks with Noah Lowry winning the Cy Young. If that happens I'll defecate in my pants. The Reliever of the year category is a complete shot in the dark. It's only here because it was one of the top awards on the game.

That's it for me. I should be back in the next day or two with my final four thoughts among other things.