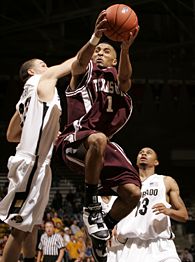 It was an interesting week in College Basketball with top teams going down one after another. One constant remains however, and that is this weeks top team.

1. Florida (3)
The Gators extended the nations longest winning streak to 15 tonight with a win at Georgia in a more or less boring game. It wasn't a blow out by any means as the Gators won by 10, but watching it at no time did I even consider Georgia a threat to win it. Florida also blew out Tennessee this week, minus Chris Lofton it won't be as easy when they see a healthy Lofton at Rocky Top. Florida takes its show on the road this week to Kentucky and then hosts Alabama, both teams can beat them but I think only Kentucky is a threat. 'Bama is a horrible road team and has a good chance to get routed by the Gators.
This Week: 2/10 @ Kentucky, 2/14 Alabama


2. UCLA (6)
The Bruins jump four spots this week after going 3-0, including a game against Oregon in which they result was never in question. UCLA also blew Oregon St out of the gym and knocked off USC as well. The game against Oregon was probably the most impressive as they took a solid 10 point lead out of the gate and never let Oregon get within striking distance. I was expecting it to be a much more hard fought game but it was far from it. UCLA heads to West Virgina this for a game they should win, but going on the road cross country is never easy and WVU could pull the upset.
This Week: 2/10 @ West Virgina

3. Wisconsin (5)
The Badgers put together a 2-0 week with a relatively easy victory on the road over Penn State and a home win over Northwestern. Wisconsin had little trouble dispatching N'western after struggling against them on the road. The Badgers get bonus points for bouncing back strongly from last weeks loss to Indiana. Wisconsin should keep it rolling as they take on Iowa and Minnesota this week, neither of which is a very good team. They've got to continue to win games against lesser competition by 10+ points to hold this spot.
This Week: 2/10 Iowa, 2/14 @ Minnesota

4. North Carolina (1)
The young and talented Tar Heels got bored and managed to let a mediocre NC State get them on the road before taking their trip to Durham tonight. UNC trailed for most of the game against Duke before coming back to pick up a tough road victory over the Blue Devils who have lost 3 strait for the first time since 1996. Despite playing a bad all-around game the Heels took advantage of an exhausted Duke team late to win. My advice for March would be to slow them down and force them into the half court but then again most people already know that. UNC should win both games this week, despite being dominated by Va. Tech on the road they're just too good at home and Va. Tech has been shaky lately. I think the Heels could have both of there games this week won at halftime.
This Week: 2/10 Wake Forest, 2/14 Virgina Tech

5. Ohio State (7)
The Buckeyes got consideration for the four spot this week but neither of their victories was impressive enough to over take the Tar Heels, It's not their fault the Big Ten is as bad as it is but there not playing anyone too good. OSU didn't have much trouble in East Lansing beating the Spartans by more than they did on their home floor, disapproving many who thought they would lose, me included. They also welcomed a bad Michigan team to Columbus and picked up another big ten victory as everyone looks forward to their rematch with Wisconsin in Columbus to end the month. They should pick up another two victories this week as they face some more bad Big Ten competition.
This Week: 2/10 Purdue, 2/14 @ Penn State

6. Texas A&M (UNR)
The Aggies posted an impressive week with wins at Kansas and over Texas at home. In the Kansas game they trailed by double digits for a large portion of the second half before going on a 17-4 run to end the game and walk out with a win. Acie Law's 3 ball down by two late in the game would prove to be the dagger, and you have to wonder why Brandon Rush would give him that much space. That wasn't enough for the Aggies however as they went home to welcome Texas and suddenly they were a high scoring team. That probably has more to do with the 'Horns than the Aggies but A&M blitzed the 'Horns 100-82 in a game that was over in the early part of the second half. It's a much easier week for the Aggies this week as they try to hold the top spot in the Big 12. I anticipate a 2-0 week ahead as they get Texas Tech at home this time, and Tech is a horrible road team.
This Week: 2/10 @ Nebraska, 2/13 Texas Tech

7. Washington State (8)
Solid 2-0 week for the Cougars as they hit the two Arizona schools in one road trip and came out unscathed. They won at Arizona by 6 and the result was never really in question in the final minutes of the game. Derrick Low looks fantastic and he seems to shoot the lights out every time I get to watch the WSU play. Low attempted just six shots two days later making half of them as his team barely escaped Arizona St with a win 48-47. I don't know if they were tired or not but theirs no reason they should struggle against the worst team in the Pac-10. WSU heads into a three game week that ends in Washington against the in-state rival. They'll be looking to avenge a previous loss to Standford, this time at home and the Cal game should be a win if they wanna stay on this list.
This Week: 2/8 Stanford, 2/10 Cal, 2/14 @ Washington

8. Oregon (2)
The Ducks drop 6 spots after an 0-2 road trip through Los Angeles that included a bore fest of a loss to UCLA, and another close loss to USC. Though USC was in control for most of the game Oregon got it close late but just couldn't pull off the road win. Oregon will finally return home this week after 4 consecutive road games that saw them finish 1-3, if not for their strong resume up to this point and the strength of the Pac-10 as a whole some might be talking bubble for Oregon right now. But no one is for a reason, Oregon's a lock unless they completely fall apart at home. They'll be welcoming the two Arizona schools to Eugene this week and should be able to bounce back from a tough last two weeks.
This Week: 2/9 Arizona St, 2/10 Arizona

9a. Kansas (4)
I copping out to keep Kansas on the list this week after tonight's absolute destruction of Kansas State. Kansas had a disappointing week however falling to Texas A&M in a game they lead the entire way and had no business losing. The 'Hawks failed to take advantage of having the two teams only meeting this season at home and it may have cost them the Big 12 regular season crown. Kansas lead the game throughout and up until the last few minutes appeared as though they would cruise to a 10-12 point victory. Yet with less than a minute left they found themselves up by just 2 points with Acie Law putting the dagger in their hearts, and in Brandon Rush's eye. Kansas missed a bunny and then a 3 point attempt at the buzzer, but the game was over when Law hit that shot. The shot is one Law never should have been able to take. Rush gave him way too much space in a pressure situation because he was afraid he was going to drive right past him and tie the game. Law undoubtedly noticed this and ended the game right there, you have guys defending behind you for a reason you absolutely have to play tight at this point in a game. Rush was the goat on this night and come March it may be the same story for the 'Hawks is they see themselves making another early exit. Teams have apparently caught on to Rush's iffy ball handling skills in the half court and have tried to keep Kansas slowed down and force him into mistakes. He's a fantastic player but he makes strange decisions at times and never seems to show up in the big games (was 3-13 from the field vs A&M). Kansas has a pretty easy week ahead despite a pair of road games.
This Week: 2/10 @ Missouri, 2/14 @ Colorado

9b. Marquette (9)
The Golden Eagles extended their win streak to eight this past week avenging a previous loss to Providence and knocking off Rutgers as well. The Eagles have their toughest test since winning at Pitt. this week as they head to Georgetown to try and knock off the Hoyas who have been playing pretty well lately. It's an interesting match up on paper as G'town is a large team compared to the Eagles who start three guards and looks to beat you with speed. I like Marquette here but I wouldn't be surprised to see the Hoyas pick up the victory.
This Week: 2/10 @ G'town, 2/14 @ DePaul

NOTE: Had to do the 9a, b this week because I couldn't knock Marquette off the list after a perfect week and Kansas hasn't quite fallen of the radar yet.

Others Receiving Consideration:
Pittsburgh, Butler, USC, So. Illinois, and Nevada.

The Bottom 5:
The candidates for early exit come march reside on this list, their are many more but I keep it to 5.
5. Alabama - Starting to finally get it together it appears winning a rare road game, albeit at LSU this past week. They did need a buzzer beat to beat Ole Miss at home however.
4. Oklahoma State - Now losers of 7 strait big 12 road wins, the once lock for the tourney could be heading for the bubble if they don't right this ship.
3. Clemson - After a 17-0 start the Tigers are just 2-5 since including a three blowout loses, one of which was to... Georgia Tech of all teams.
2. Duke - Losing to UVA on the road was fine, but the loss to Florida ST at home isn't and they made it three strait losses tonight at home against UNC.
1. Michigan St - Just when you think they might be getting it together they get outscored 36-12 in the second half by Purdue of all teams and lose 62-38 to extend their losing streak to 4.