Those wondering what this is all about, click here.

Well work became a problem last week (damn responsibility) and despite Ted getting his entry to me early. I failed to post it at all. So this week you get a dual elimination from us both. As usual here are the knockouts thus far for both of us.

BD
Washington
Seattle
San Francisco
Kansas City
Ted
Kansas City
Pittsburgh
Baltimore
Colorado

Per usual we'll lead it off with the NL.... I'm up first and then Ted.

Leaving The Diamond: St. Louis Cardinals
Reas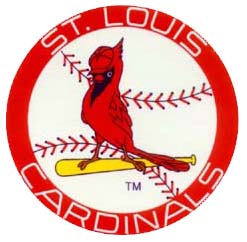 oning: Fall anyone? It really is amazing how bad the Cardinals have been this season. Though let's be honest no one thought they were better than the Tigers last season either. They just happened to be for a little over a week to win the whole damn thing. Those very Tigers swept the Cards over the weekend. And watching the majority of all three games all I can say is... wow. The Cardinals couldn't hit a beach ball if it blew out of the stands. Let alone something much smaller and less colorful.

I knew they couldn't hit but I hadn't seen it for myself until now and that put the stamp on this one. Though I even toyed with the idea when I sent the Giants into oblivion two weeks ago. This is a great joy for sure. As an avid Cardinal hater for as long as I can remember (I even rooted for Boston in 2004, and I surely am not a Sox fan). I must say this is a great pleasure.

While Pujols was solid over the weekend he's off to a slow start this year and has virtually no protection with Scott Rolen stealing money behind him. Not to mention their pitching staff is comprised of two of last year's relief guys (Wainwright and Looper) who have struggled for the most part. And Chris Carpenter is still in limbo following an early season injury. The Cards, despite that horrendous division are going nowhere this season and I couldn't be happier.

Good bye, and good riddance. Albert can't complain about the MVP this season.

Leaving The Diamond: Cincinnati Reds
Reasonin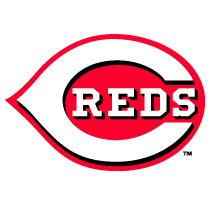 g: This is a tough one for me in some respects. See, just like my earlier elimination of the Orioles (a team personally dear to my own heart), the Reds are the favorite team of one of my good friends / college roommates, Peter. He checks out most Reds vs. Nationals series, as he's a DC resident these days, and that's kinda the jumping off point for this elimination.


See, the Reds beat the Nationals this past Monday night - the game was in Cincinnati, so I doubt Peter was there - on a Javier Valentin knock in the 8th inning. The more and more I thought about that game, I kept thinking that legitimately, I would probably be inclined to watch Problem Child 2 more than any given three-inning stretch of it. It's sad, because that victory might be one of the most exciting the Reds have this year - and it only brought them to "a little closer to third" in the NL Central.


The Reds right now aren't a team you follow; they're a collection of players who are interesting for various reasons. Ken Griffey Jr is looking hot right now, although he'll probably stab himself with a spork within a few weeks and be done for the season; Adam Dunn might be legitimately the most awesome power hitter in MLB right now just in terms of sheer distance; Ryan Freel is a star in the making, and a total freak who has imaginary friends north of 25; and Josh Hamilton's story is inspirational. It's also nice to know Scott Hatterberg still has a job.

However, baseball is a team game, and the Reds, as a team, are a total friggin' joke. Bye bye, Cincinnati. We'll see you on the flip side.


Moving over to the AL Ted kicks us off, while I'm hitting cleanup to wrap this dual week Survivor up.
Leaving
The Diamond: Texas Rangers

Reaso
ning:
Unlike my main man BD, I can't do a repeat - it would just be too easy to eliminate the Royals every time I have the AL; legitimately, that team has a chance to get
no hit
every time they play - so I'll go with Texas here.
As of Sunday, the Rangers are a pedestrian 9-9 at home, 4-6 in their past 10, and are getting owned by the Angels, logically the class of the division. Here's what's probably most troubling: take a gander at their depth chart. Their No. 1 pitcher is listed as Vicente Padilla; their CF is Kenny Lofton, who may be older than Frank Robinson; and Brad Wilkerson - who, good catch last weekend aside, might be one of the most underwhelming baseball players with potential in history - rocks out in left.

The Rangers infield is very good and legitimate - Teixeria, Kinsler, Young, and Blalock. Unfortunately, their pitching is mostly a bunch of ass clowns and former steroid abusers, and the A's and Angels are both significantly better than them. We're voting them off the island this week, and in so doing, we're hoping that Sammy Sosa fades into obscurity along with the squad as a whole. Seeing that home run bop now is like watching old Mel Gibson movies after you learned he's an alcoholic bigot. It just makes you sad.
Leaving The Diamond: Toronto Blue Jays

Reasoni
ng:
That's right Tampa Bay lives to see another day, despite Elijah Dukes and his karma. The Blue Jays as I fight the repeat then become the casualty. Currently sitting in a tie with the Yankees 10.5 back of what is probably baseball's best team, the Boston Red Sox. The Jays just cannot find a reliable starter outside of Roy and A.J. and with those two injuries are a constant concern. The worst part about this for me is that the AL East will once again feature a NY/BOS (well, Boston) winner and Vernon Wells still isn't going to get his shot on the big stage. Much like Carlos Delgado never did up there in free health care land.
The Jays have got to feel good about Jeremy Accardo's emergence at the back of the bullpen. Though I think he could have probably closed games last year. B.J. Ryan's injury has given him his time to shine and that may open up Toronto to moving Ryan and his massive contract is Accardo can keep this up all year. Casey Janssen has also turned into quite the reliable set-up guy after having a roller-coaster of a ride in the rotation the past two years or so.
All in all Toronto has a solid nucleus of talent but to compete in the east, better yet the AL they're going to need better pitching. At the very least three consistent, and reliable starters. A.J.'s been solid so far this year and so has Roy when he's not having an appendectomy. The rest of those guys, however, have been brutal and I'd anticipate that continuing. The lineup has been struggling as well with Alex Rios leading the team in BA (.282) and HR (9) while Aaron Hill leads in RBI (25). More or less, nothing is working. Which illustrates just how bad the Yankees have been so far this year (which is fantastic by the way).
Adios Canada, it's just to bad your favorite sport is almost over as well.